[ad_1]

Reviews and recommendations are unbiased and the products are selected independently. Postmedia may earn an affiliate commission from purchases made through links on this page.
Essay Content
For the second year in a row, Calgary country act Nice Horse has been crowned group of the year at the YYC Music Awards.
Essay Content
The awards, held live for the first time in two years, were presented Sunday at a gala presentation at the Gray Eagle Casino Event Center.
Essay Content
Featuring live performances and hosted by CBC's Chris Della Torre, the gala included the presentation of 25 awards.
Essay Content
Royal Foundry's Listen to the Beat received two awards, including Alternative Recording of the Year and Single of the Year for the title track. Calgary rapper Cinzer also received two trophies, one for Rap Recording of the Year for Blackout and one for Video of the Year for the video for Shake the Building, directed by Emil Agopian. Finn McDowell was presented with both the Pop Recording Artist of the Year award for The Lost Game and the Prophets of Music Emerging Artist Award.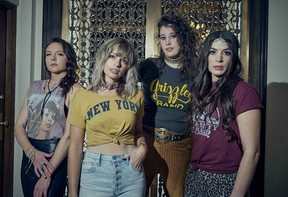 Other winners include: Marcus Tramer's Running on My Own for Blues Recording of the Year; Color Me Sad's The Magic That Is Me for Children's Recording of the Year; Jessica McMann's Incandescent Tales for Classical Recording of the Year; Steve Pointmeyer's nod for Country Recording of the Year; Titus1's Bring Da *** for EDM Recording of the Year; T by Frame for Folk Recording of the Year. Buckley's Frame; Christopher Hewitt, owner of Dickens Pub, for Industry Personality of the Year; FAC Music's Oh What a Day for Inspirational/Holiday Recording of the Year; The Al Muirhead Quintets Live Frankies and the Yardbirds for Jazz Recording of the Year; Osiron's Kingsbane Deluxe Edition for Metal Recording of the Year; People's Choice Award for Ron A. McNeil's Hey Bob Dylan; Sergeant x Comrades' The Elephant in the Room for R&B/Soul Record of the Year; MCC Recording Studio for Recording Studio of the Year; Misha & The Spanks Mixed Blood Girl for Rock Recording of the Year; Zenon for Solo Artist of the Year; Kyle McCarney won Songwriter of the Year for each day; Dickens Pub won for Venue/Presenter of the Year; And Luis Tovar's Como Te Hago Entender won for World/Cultural Recording of the Year.
[ad_2]

Source link