[ad_1]

During this 2022 homecoming season, Luther College Weston Noble, Dr. Carlo A. Sperati continues the tradition of presenting the Presser Scholar and Hemp Prize awards. Student and alumni award winners are recognized each year during the annual Homecoming Concert.
2022 Weston Nobel Prize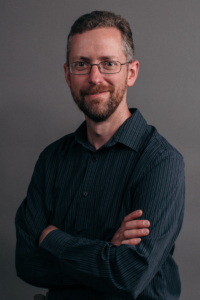 Kirk Severtson '97 is the 2022 recipient of the Weston Nobel Prize. Weston Noble served on the music faculty at Luther College from 1948 to 2005. During that time, the college grew in numbers, gained a national reputation and became a leader in training trailblazers in the field of noble music education. Established in 2004, the Weston Nobel Prize honors Nobel's legacy and recognizes music educators who continue to do so.
During Luther's time as Severtson, he established himself as an exceptional musician, solo and collaborative artist, and an impressive scholar. He set the bar high for his classmates, including Andrew Last, director of choral activities and associate professor of music at Luther. The award was last presented to Severtson at the October 9 homecoming concert.
"For many of us, Kirk has set the standard for excellence in the department," Last said. "However, he is also a wonderful person. He has a great sense of humor and is very down to earth. I am a better musician today because of Kirk's influence in our classes at Luther."
After graduating from Luther, Severtson attended graduate school at the Cincinnati Conservatory of Music. He received his Master of Music in Piano Performance in 1999 and his Doctorate of Musical Arts in Piano Performance with Vocal Accompaniment in 2005.
Severtson began his teaching career in 2001 at The Crane School of Music at SUNY Potsdam. He joined the faculty as a lecturer and by 2014, he had worked his way up to a full professor of music. As musical director of the Crane Opera Ensemble, Severtson coached singers and pianists and taught art song repertoire and accompaniment classes. In 2019, he was appointed a professor of voice at the University of Michigan serving as a vocal coach and conductor of the opera program.
Over the years, Severtson has worked with the musical staffs of numerous opera companies, including eleven seasons with The Dallas Opera (with three world premieres), Lyric Opera of Kansas City, The Atlanta Opera and Opera Saratoga. He has directed and coached around the world, including at the Hawaii Performing Arts Festival; Opera Viva in Verona, Italy; Lucca Opera Theater in Italy and Cincinnati Opera Outreach Program. Currently, Severtson serves as the Executive Director of the National Opera Association.
Speaking to Severtson, Last said "Looking at your professional achievements, I am confident that I can highlight dozens and dozens of awards, masterclasses and recitals. Your humility and willingness to always put people first has made a lasting impact on each of your students. Thank you for your contributions to music education and for honoring Luther College in your teaching career for many years to come."
2022 Dr. Carlo A. Sperati Award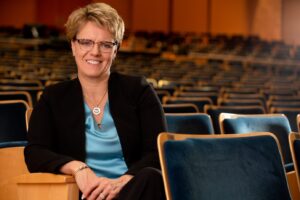 Jennifer Boomgarden Daoud '97 Dr. Carlo A. Recipient of the Sperati Award. Dr. Carlo A. Sperati, a pillar of Luther College and the Lutheran musical tradition, was conductor of the Luther College Concert Band for 38 years until his retirement in 1943. His work ethic, and demand for perfection and patience when working with music are part of the identity of Luther College's music department for students to this day. This award recognizes those qualities in music educators as they follow in Sperati's footsteps
A trumpet performance major at Luther, Bumgarden Daoud completed a master's degree in orchestral conducting from Northern Arizona University. His first job was with the Omaha Area Youth Orchestra where he served as associate conductor.
While in Omaha, Bumgarden Daoud found his way into the Omaha Symphony ensemble, initially as a part-time fundraising assistant and eventually becoming vice president of education and community engagement and staff conductor. In recognition of his leadership and passion for music and education, Boomgarden Daoud received the Omaha Public Schools A+ Advocate Award, the Nebraska Governor's Emerging Leader in the Arts Award and the Leonard Bernstein Award for Educational Programming.
Discovering that he could make a significant impact as an administrator, Baumgarden Daoud became executive director of the South Dakota Symphony Orchestra in 2010. During his tenure, the orchestra was awarded two ASCAP awards for its commitment to new American music and its innovative programming. As well as the Bush Prize for Community Innovation. In 2015, Baumgarden Daoud received the Helen M. Award from the League of American Orchestras for exceptional leadership, dedication and achievement in conducting the orchestra. Thompson Award. He was appointed president and CEO of the Omaha Symphony in July 2018.
Bumgarden Daoud says he truly believes his Luther education has prepared him for countless opportunities in life. He advises current students to take advantage of every opportunity Luther offers. For him, these transformative opportunities included a Luther Orchestra residency in Vienna in 1996, which sparked a lifelong love of travel, and a concert band tour of Japan in 1997, which sparked a curiosity about culture that now shapes his view of the role of music. Our society.
Luther's band director and assistant professor of music Corey Nier Boomgarden presented Dowd with the award. He said, "Jane, it is clear that your love, passion and dedication to the music community has not changed since you walked these halls. On behalf of the faculty, staff, and students of Luther College, we congratulate you on all of your accomplishments and we wish you the best of luck in 2022. Sperati is proud to name the award recipient."
2022 Presser Scholar Award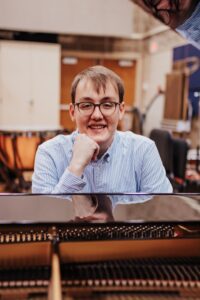 Eric Head '23 is the recipient of the Presser Scholar Award. The Presser Scholar Award was established in 1939 by the Presser Foundation in honor of Theodore Presser, publisher of Etude Music magazine and founder of the music publishing company that bears his name. Funded by a financial gift from the Presser Foundation of Haverford, Pennsylvania, the award is presented annually to a current Luther music major selected by a vote of the music faculty based on excellence and merit.
Head's passion for music began at the age of eight when he took an immediate interest in the piano. Fast forward to his time at Luther, head is a member of the violin section of symphony and chamber orchestras. He also sings in the collegiate chorale and is deeply involved in various vocal and instrumental studios, lessons, ensembles, recitals, and collaborative piano with opera scenes and productions.
Head, a senior from Fairmont, Minnesota, will graduate from Luther in 2023. After graduation, she hopes to attend graduate school to study associate piano or she may work in arts administration with an opera or orchestra company.
"I feel incredibly honored to receive the Presser Scholarship this year," Head said. "I am eternally grateful to all the teachers, mentors, and colleagues whose guidance has allowed me to be in this position. The Luther Music Program has become one of the most important aspects of my life. It seems like every day I discover a new musical instrument or make a new friendship. I will cherish the personal and musical connections with Luther for a lifetime."
Head was the winner of the Rosholt Distinction in Accompanying award in 2021 and 2022. He also won the Music Department's Concerto Competition in 2021. He is looking forward to the symphony orchestra's month-long Vienna residency in January.
2022 Hemp Prize
Rob Clower '23 is the 2022 recipient of the Hemp Award. Richard C. for the orchestral performance. and Joan M. The Hemp Family Prize is awarded annually to a senior member of the Luther College Symphony Orchestra. The $8,000 scholarship is funded through an endowment established by Richard '64 and Joan (Harr) Hemp '65. Richard Hemp is a regent emeritus, former chairman of the Luther College Board of Regents, and former interim president of Luther College. The Audition Award recognizes students of exceptional performance, talent, musicianship and leadership.
Clover has played the oboe for over 12 years. He is a senior who came to Luther from Grinnell, Iowa. In high school, he was very involved in music. As a true student of music, Clower is grateful for the guidance he received from his local orchestra conductor, Eric McIntyre, high school band director Levi Dressler, and high school choir director, Roger Henderson, a Luther graduate who received the Weston Nobel Award. In 2015. Heather Armstrong, associate professor of oboe and music theory at Luther, recalls first meeting Clower in 2016 when she attended a Dorian summer music camp.
"I was impressed by his curiosity, love of music and desire to develop as an oboist. In fact, Rob was so passionate about improving as an oboist that he asked if he could record me explaining a practice technique during that Dorian lesson so he wouldn't forget it when he got home! I was delighted when Rob returned to Luther after many years to study music here. He was a leader in the orchestra and oboe studio, and his passion for music, pursuit of musical excellence and generous support of others is an inspiration to us all."
Clower plays oboe in symphony orchestras and chamber orchestras. She also sings in a collegiate chorale and an a cappella group, undeclared. Clower is majoring in music with a German minor. After graduating in 2023, she plans to pursue a career in oboe pedagogy, orchestral music, and music education and outreach.
"I am honored and grateful to be awarded for something I love so much," said Clower. "There is no other institution that combines musical excellence with community, social responsibility and love the way Luther's music department does – it's a unique place. My friends here inspire me to grow as both a musician and a person, and the teachers are invaluable mentors and teachers. I am especially inspired by my music education classmates here. They are some of the best musicians and most uplifting people I will ever know. I hope that wherever I work later in my life matches Luther's culture, and it's a pleasure to be a part of it now."
Luther College is about music
Luther is home to one of the largest undergraduate music programs in the country, with five choirs, three orchestras, two bands and two jazz bands. One third of all Luther students participate in music, including large ensembles, faculty-trained chamber groups, private lessons and master classes. About 175 music majors study music theory, ear training, history, education, composition, jazz, church music and performance. Learn more at luther.edu/music.
[ad_2]

Source link