[ad_1]

Chinese manufacturer LDV is betting big on Australia's first electric car, with the brand poised to beat mainstream heavyweights such as the Toyota HiLux, Ford Ranger, Volkswagen Amarok, Nissan Navara, Isuzu D-Max and Mitsubishi Triton to the party when the eT60 is launched in just in a couple of weeks.
But the big question is, is Australia really ready to go fully electric in a vehicle segment still dominated by diesel powertrains?
LDV says yes. And it's putting its money and its battery technology where it can. And while its electric dreams are just beginning in Australia, they are much more established in China, LDV's home market.
Learn more about the eT60
Interesting fact: China's automobile industry is relatively young, but every fourth car sold anywhere in the world is produced there. In September right here in Australia, Chinese-made cars were the third most common type of car sold in Australia last month, ahead of cars from Korea like Hyundais and Kias and from Europe like BMW or Mercedes, as brands like such as MG, GWM and LDV. thundered
About 14,889 Chinese-made vehicles were sold in Australia last month, with shipments exceeded only by Thailand (20,363) and Japan (23,880), according to monthly sales figures released by the Federal Chamber of Automotive Industry Australia (FCAI).
So they make a lot of cars, but the Chinese also specifically make a lot of electric cars. China will sell more electric cars this year than the rest of the world combined, and the country now accounts for more than half of all global electric car sales.
The electric car may be new to Australia, but it's old news in China and the US, where orders for trucks like the new GMC Hummer or the Ford F-150 Lightning far outstrip demand, causing delays and higher prices.
Australia isn't China, and the eT60 won't be to everyone's taste – mostly because its uses are so different to a traditional diesel engine.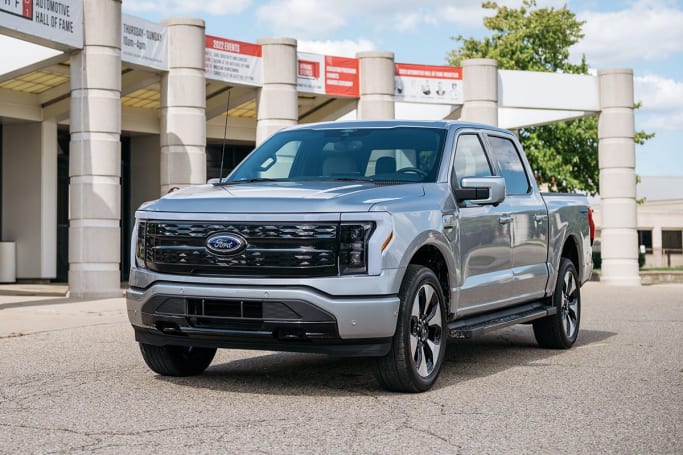 Demand for the Ford F-150 Lightning in the US exceeds supply.
The eT60 is powered by an 88.5kWh lithium-ion battery that provides a WLTP-certified range of 330km. Based on international specifications, the electric liner should tow 1.5 tonnes — not the 3.5 tonnes expected from many liners — and will carry a payload of around 750kg.
But the brand says consumer interest is coming straight from across Australia, and the ute is expected to be snapped up by those looking for a more capable lifestyle vehicle rather than a simple workhorse.
"It's no longer a question of if Australia will transition to electrification of the transport sector, but when. The transition is locked down and LDV continues to do so," says Dinesh Chinnappa, General Manager of LDV Australia.
"Having LDV as an OEM backed by a major automotive company in SAIC means we are well positioned, resourced and agile to launch, develop and grow our commercial EV strategy alongside our existing ICE (Internal Combustion Engine) models." . »
So is it really time for an electric body in Australia? Time will show. But with no moves from the big companies to go full electrification, LDV will have the market to itself.
How big this market is remains to be seen.
[ad_2]

Source link